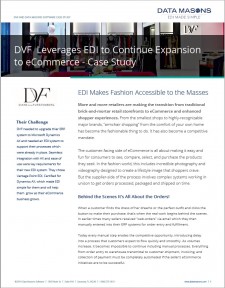 Case study showcases Diane von Furstenberg's decision to implement a new EDI solution during its Microsoft Dynamics AX upgrade and the benefits of moving to a fully-automated EDI solution.
Sarasota, FL, September 22, 2016 (Newswire.com) - ​​Data Masons Software, LLC., a leading provider of Integrated EDI and XML solutions for Microsoft Dynamics customers, announces the availability of a case study for Data Masons and Microsoft Dynamics AX customer, Diane von Furstenberg (DVF). Founded in 1972 by the legendary Diane von Furstenberg, DVF is a global lifestyle brand and one of the premier names in American fashion with a global distribution network in over 55 countries and 1500 points of sale. In this case study, the company discusses its decision to engage a new EDI solution to support its growing eCommerce initiatives.
The customer-facing side of DVF's eCommerce business provides an easy and fun experience for consumers, but to be successful and prepare for future growth, DVF understood that the systems on its supplier-side need to work in unison in order to get orders processed, packaged and shipped on time. Once decided on Microsoft Dynamics AX for its ERP platform, DVF selected Vantage Point EDI for Microsoft Dynamics AX from Data Masons to deliver the level of automation they required to have a competitive eCommerce business.
I'm glad that DVF is using Vantage Point EDI for Dynamics AX. I find it to be extremely easy to use, very user friendly.

Josie Edouard, EDI Business Analyst
Predicting explosive growth of the company's eCommerce business, Josie Edouard, EDI Business Analyst at DVF, stated, "I'm glad that DVF is using Vantage Point EDI. I find it to be extremely easy to use, very user friendly." Edouard added, "It's easy for me to maneuver, especially when troubleshooting problem orders."
Data Masons' Vantage Point EDI solution provides seamless integration with Microsoft Dynamics AX to provide full automation of critical EDI processes, eliminating the manual intervention that can jeopardize a company's competitive opportunity. The only EDI solution Certified for Microsoft Dynamics AX, it gives users the ability to automate their entire supply chain without unnecessary customizations to the ERP.
"Too often we see companies reach out to us long after EDI has created significant challenges for their businesses, and so we're excited to see DVF anticipating both its immediate and future EDI needs. Understanding now that their Dynamics AX ERP will need to interact not only with their own warehouses but with their trading-partner suppliers as well, they selected an EDI solution accordingly and chose one with an extensive library of over 6,000 trading-partner profiles. With Vantage Point, DVF will have no problem scaling their operations to support increasing volumes as needed," stated Dennis Bruce, Director, Business Development, Data Masons.
Data Masons is a Premier Sponsor of AXUG Summit 2016, October 11-14, 2016 in Tampa, FL. The company will exhibit in the Solution Center and present the session, "EDI for AX7 – A Radical Transformation for Dynamics AX," where attendees can learn more about the Vantage Point EDI for Microsoft Dynamics AX solution.
To learn more about the benefits of Data Masons' EDI Made Simple approach, read the DVF case study online.
About Data Masons
Data Masons specializes in EDI Made Simple® for Microsoft Dynamics and Macola customers by offering advanced, turnkey EDI & XML solutions. Certified for Microsoft Dynamics, Vantage Point EDI provides an end-to-end EDI processing platform with seamless integration and predictable ownership costs for cloud or on-premise environments - all without expensive and disruptive ERP platform customization. Data Masons' compliance services, product flexibility, extensive EDI and ERP integration knowledge, and partner-driven experience have made Vantage Point EDI the winning choice for high-performance business document integration at more than 1,500 customers.
Source: Data Masons
Share: